Heroes paving the way to an Atmanirbhar Bharat
17 August, 2020
The textile sector is one of India's oldest industries, with a mix of hand-spun and hand-woven textiles on the one end and capital-intensive sophisticated mills on the other. The industry contributes 2 per cent to the country's GDP, employs about 45 million people and contributed 15 per cent to India's export earnings in 2018-19. Globally, India is ranked second in textile export with a 6 per cent share and fifth in apparel export with 4 per cent share. In terms of capacity, the industry has the second largest vertically integrated textiles production base in the world after China.
Today it's time for India to go for the push towards atmanirbharta, and build on the strengths of companies that have a presence not just in India but also in the global market.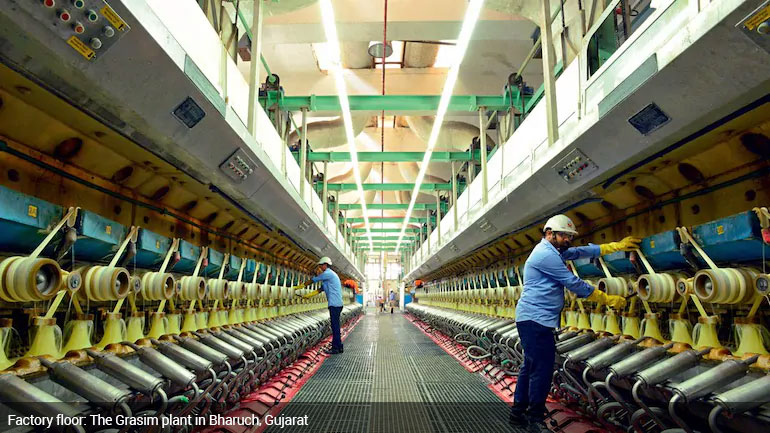 Grasim Industries
Established: 1947
Suited to the Task
The journey of Grasim Industries, a flagship company of the Aditya Birla Group, is closely intertwined with India's journey on the path of self-reliance.
Grasim was incorporated in 1947, exactly 10 days after India's independence. Following Partition, large tracts of cotton-growing fertile land went to Pakistan. Foreseeing that indigenous cotton production would come under tremendous stress as cultivation of food crops to feed a rapidly growing population would be priority, Ghanshyam Das Birla pioneered man-made fibre with Grasim to supplement textile fibre availability for clothing.
Over the years, Grasim emerged as the world's leading producer of VSF or viscose stable fibre; within 16 years of its inception at Nagda in Madhya Pradesh, it became the world's only completely integrated VSF manufacturer with capability spanning plant design and engineering, pulp production and VSF from completely indigenous sources.
From a textile manufactu­rer, Grasim Industries today is a diversified player, India's largest producer of chlor-alkali, linen and insulators. It is also India's largest cement producer and leading diversified financial services player through subsidiaries UltraTech Cement Ltd and Aditya Birla Capital Ltd. The group's consolidated revenue was Rs 77,625 crore for FY20.
The pulp & fibre business derives its competitive edge from its integrated business model, which spans the entire value chain, plantations, dissolving grade wood pulp, materials such as carbon disulphide and caustic soda, power generation and downstream operations. Grasim's chemicals business was set up in 1972 to manufacture caustic soda for its VSF unit. The business uses cost-effective membrane cell technology and is largely self-sufficient in power.