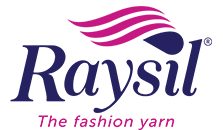 Raysil® – The fashion yarn, is Grasim's viscose filament yarn brand. It is a complete range of cellulosic, 100% natural and biodegradable viscose filament yarns.
Raysil® is made from best quality imported wood pulp from Domsjö Fabriker, Sweden as well as from other domestic and global sources, which makes it extremely skin-friendly and comfortable. Raysil® is the secret behind every rich fabric that has superior lustre, drape and fluidity. Additionally, Raysil® possesses brilliant colour depth, excellent softness and smoothness, high thermal protection, no pilling and anti-shredding properties.
This versatile fashion yarn is available across 20 deniers to 1200 deniers of bright and dope dyed VFY (600 shades with flexibility to reproduce any shade as per customer requirement).
Its wide product range also includes air-texturized yarns, double and twisted yarns, dull yarns, flat yarns, special yarns, yarns with two tone effect and many more.
Raysil creates the best of
Superfine fabrics like Georgettes, Crepes and Chiffons
Other fabrics like Upada, Organza, Tabby, Tussar, Satin, Shantun, Velvet, and many unique blends
Lustrous embroidery and decorative laces
Home Textiles, med-tech (like crepe bandages) and other technical applications