Providing Quality Health Services to over 350 villages in Madhya Pradesh
For communities living around Nagda in Madhya Pradesh, the Indu Bhai Parikh Memorial Hospital has become synonymous with quality and affordable healthcare
Access to quality and affordable healthcare is a fundamental human right. Today, over 50 per cent of rural India lives in poverty and does not have access to affordable healthcare. Unhygienic living conditions and a lack of access to sanitation and clean drinking water exacerbate the problem. Poor health further hinders their ability to seek livelihood opportunities and lead a respectable life.
According to WHO, the doctor-patient ratio should be 1 doctor per 1000 patients. In Madhya Pradesh, the average number of people served by one government allopathic doctor is 17,192. Lack of infrastructure and trained staff prevent people from accessing healthcare facilities. And where facilities are available, people are unable to afford them. Furthermore, 65 per cent of health expenditure in India is out-of-pocket which pushes some 57 million people into poverty each year.
At Grasim Industries Ltd., access to primary healthcare is considered a basic necessity. To make healthcare accessible and affordable to the common man, we set up various initiatives for these underserved rural communities.
Healthcare initiatives
Preventive healthcare
Curative healthcare
Reproductive child healthcare
Quality healthcare
The CSR team at Grasim's Nagda unit undertakes healthcare initiatives such as organising general health check-up camps, eye check-up camps, pulse polio camps, leprosy camps and family planning and awareness camps in the surrounding villages. The team also undertakes mobile health check-up camps and, TB and HIV/AIDS awareness programmes. The CSR cell provides regular fortnightly mobile medical services in villages. The teams also actively participate in immunisation programmes and spreads awareness about family planning, healthy mother and child concept and de-addiction programmes.
Multi-specialty Indubhai Parekh Memorial Hospital
Established in 1970 and run by the Grasim Jan Seva Trust, Indubhai Parekh Memorial Hospital has been giving shape to Grasim's vision of 'building a better, sustainable way of life for the weaker sections of society and raise the country's human development index' since its inception. The hospital renders quality health services and caters to communities in Nagda, Khachrod, Unhel, Ratlam and nearby villages in a radius of 50km of the Nagda township. The Group has built one of the largest private hospitals in the Ujjain district. The 150 bed multi-specialty hospital supports over 1.4 lakh patients annually from 350 villages.
The hospital is equipped with all modern facilities to provide quality health services at minimal cost and caters to the local community. Over 90 per cent of the patients who avail the services are from the surrounding villages.
The expert and qualified doctors at the hospital provide tertiary care to the needy along with round-the-clock emergency services to one and all. The hospital acts as one point for emergency healthcare services for the people of Nagda.
Main facilities
1. CT SCAN
A modern 32-slide CT scan unit was installed in December 2019 to cater to the Nagda's long standing need to manage medical and surgical cases with ease. The unit which cost Rs.1.75 crore which was much appreciated by the people of Nagda who no more have to travel to neighbouring cities to get a check-up.
2. OPD
The hospital boasts of visiting consultants and specialists of all faculties in the morning and evening.
The casualty services are equipped with all emergency drugs and resuscitation equipment.
A telemedicine centre is also available for advanced consultation from ABMH, Pune/ Apollo Hospital Group.
A well-equipped pharmacy
Ambulance services
3. IPD
General wards
Semi-private wards
Private wards
4. ICU
A 10-bed ICU is equipped with central oxygen and suction, bedside monitors, temporary pacemaker and a portable X-ray machine.
5. Radiology
Ultra-sonography machine & echo cardiography machine with colour doppler
500 mA X-ray machine/ 60mA portable / dental X-ray machine / digital X-ray machine
Computerised ECG machine
Gynaecology
Well-equipped labour room and maternity ward
7. Paediatric
NICU equipped with phototherapy and radiant heat warmer and incubator as a part of ICU. A separate six-bedded NICU is also under planning.
8. Surgery
A main OT for general and gynaecology surgeries is equipped with laparoscopic surgery and all type of uro-surgery equipment and GI endoscopy
An ortho OT for orthopaedic surgery
A Small OT for eye and ENT surgery is equipped with operating microscope and phaco emulsifier.
9. Ophthalmology - PHACO emulsification
10. Orthopaedic - C Arm with Image Intensifier 180 degree turn
11. Physiotherapy – Well-equipped with modern equipment for physiotherapy
12. Pathology
Clinical pathology and bio-chemical investigations
Histopathology, Bacteriology and Blood Bank
13. Dialysis
The hospital is equipped with a three bedded well-equipped dialysis room
14. The hospital is also well-equipped with modern equipment for TMT
During the COVID-19 pandemic, the hospital played a critical role in treating the patients and creating awareness about the disease. Separate isolation wards equipped with ventilators were set up at the hospital which played a big part in preventing the spread of the disease. The Indu Bhai Parikh Memorial Hospital has been redefining healthcare and become a byword for the people of Nagda and surrounding villages.
All-round sustainable development goal is the cornerstone of Grasim's operational ethos. For us, social responsibility is not just a part of business; it is a way of life. The company was ranked 9th among the top 10 Indian corporates for its sustainability and CSR practices by the ET and Futurescape 7th Responsible Business Rankings 2020 and these rankings are a testimony to our efforts towards a building sustainable future.
Read the press report on how the CT scan machine set up by Grasim has saved around 1,000 lives in Nagda during the pandemic
Watch more videos on Grasim's work in Nagda
— Transforming Nagda since 1947
— Grasim and Nagda — the story of #TogetherWeCan
CT scan lab dedicated to the Indubhai Parekh Memorial Hospital in Nagda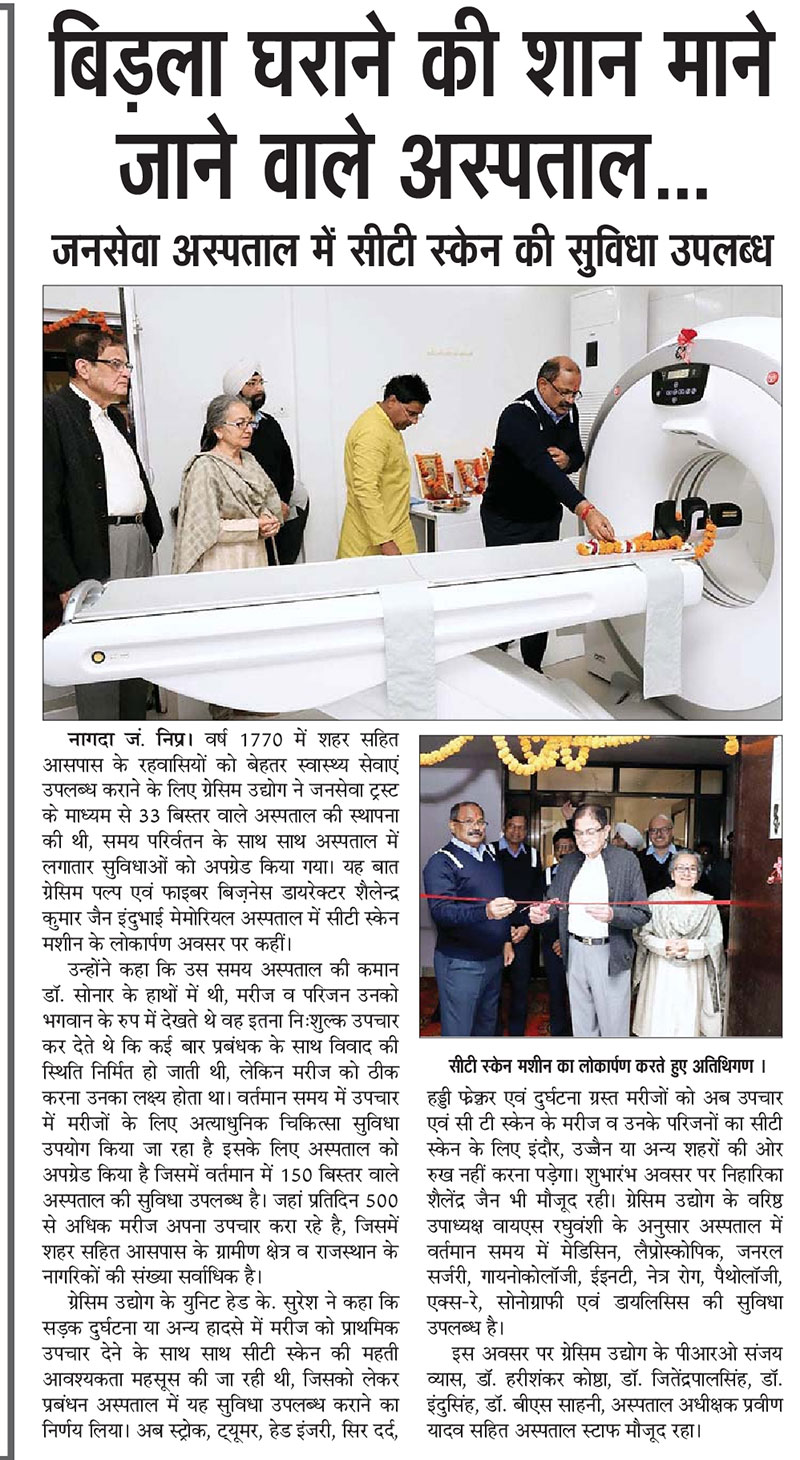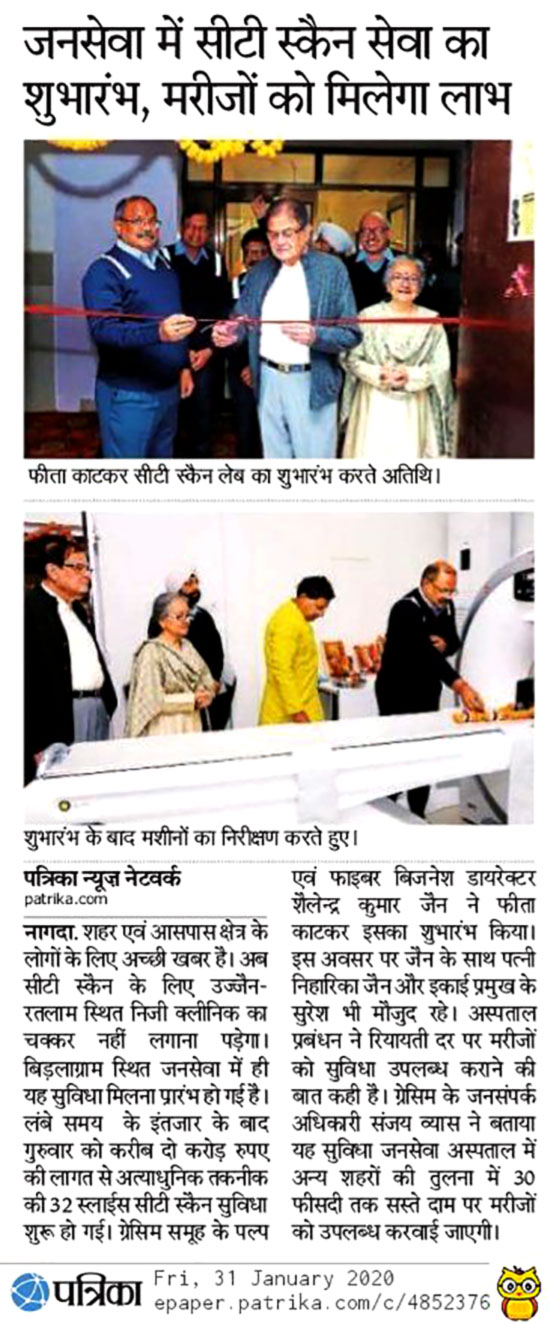 Glimpses of the Indu Bhai Parikh Memorial Hospital