Grasim's CSR commitment to Nagda
Aditya Birla Group has a strong commitment towards community development and has invested significantly in the socio-economic development of communities wherever it operates. The Group's breadth of CSR work covers more than 7,000 villages touching the lives of 9 million people. The group runs 46 schools educating 46,500 children and provides mid-day meals to 63,000 students. Through its 20 hospitals and 5,000 medical camps it has treated over one million patients. It works with weaker sections of the society as well as women from a less fortunate background. 90,000 people have been provided training in skill development, and more than 35,000 women have been empowered towards financial independence. The Group has been continuously engaged in purposeful welfare-driven initiatives which distinctively better the quality of life of the weaker sections of society.
Grasim's corporate social responsibility (CSR) philosophy stems from the Group's trusteeship concept of management espoused by its founding father, Shri G. D. Birla. Long before CSR found a place in the corporate lexicon, it was already textured into the Group's value systems. Grasim's CSR activities are channelised through the Aditya Birla Centre for Community Initiatives and Rural Development. Led by Ms. Rajashree Birla, the centre provides strategic direction to the CSR activities. In 2011, the Government of India honoured her with the Padma Bhushan, the third highest civilian award, for her services to society.
Grasim's association with Nagda, Madhya Pradesh, India goes back over seven decades and is instrumental in driving a majority of the economic and socio activities in the region.
Grasim Industries' commitment to giving back to society has led to an impressive transformation in the town of Nagda. The company's unrelenting focus has had a significant impact on numerous villagers residing in the plant vicinity.
In Nagda, Grasim has provided direct employment to over 7,000 and indirect employment to over 50,000 people. Its community engagement program spans 55 villages and 25 urban slums, reaching out to over 1 lakh people.
CSR Vision
"To actively contribute to the social and economic development of the underserved communities, lifting the burden of poverty and helping bring in inclusive growth. In so doing, build a better, sustainable way of life for the weaker sections of society and raise the country's Human Development Index".
Focus Area
Education Development
Healthcare
Sustainable Livelihood
Infrastructure Development
Social Empowerment
Grasim, in line with its CSR vision, actively contributes to the social and economic development of the marginalised sections of society. At Nagda, the Grasim Jan Seva Trust runs the Indu Bhai Parikh Memorial Hospital of 150 beds, supporting over 1.4 lakh patients annually from 350 villages. The hospital is equipped with modern facilities and provides quality health services at minimal cost.
Grasim also manages three schools, affiliated to central and state boards, where 4,200 children receive quality education. These schools, well-equipped with all facilities, have subsidized fees and have over 50% students from weaker sections of the society.
Furthermore, the construction of 4 dams in Nagda on the river Chambal has played a pivotal role in its revival. These dams have benefitted over 200,000 people, fulfilling the water requirement of the city and the railways.
Grasim Industries is working with an unrelenting focus on making a qualitative difference to the lives of the villagers in proximity to its plants.
Besides the team, Grasim works very closely with the District Rural Development Authorities, Health Department, Village Panchayats, the District Animal Husbandry, Agriculture, Horticulture, departments among others.
Case study of Grasim's success stories in Nagda published in Raj Express
Grasim stands by villagers in toughest times of Covid; published in Dainik Bhaskar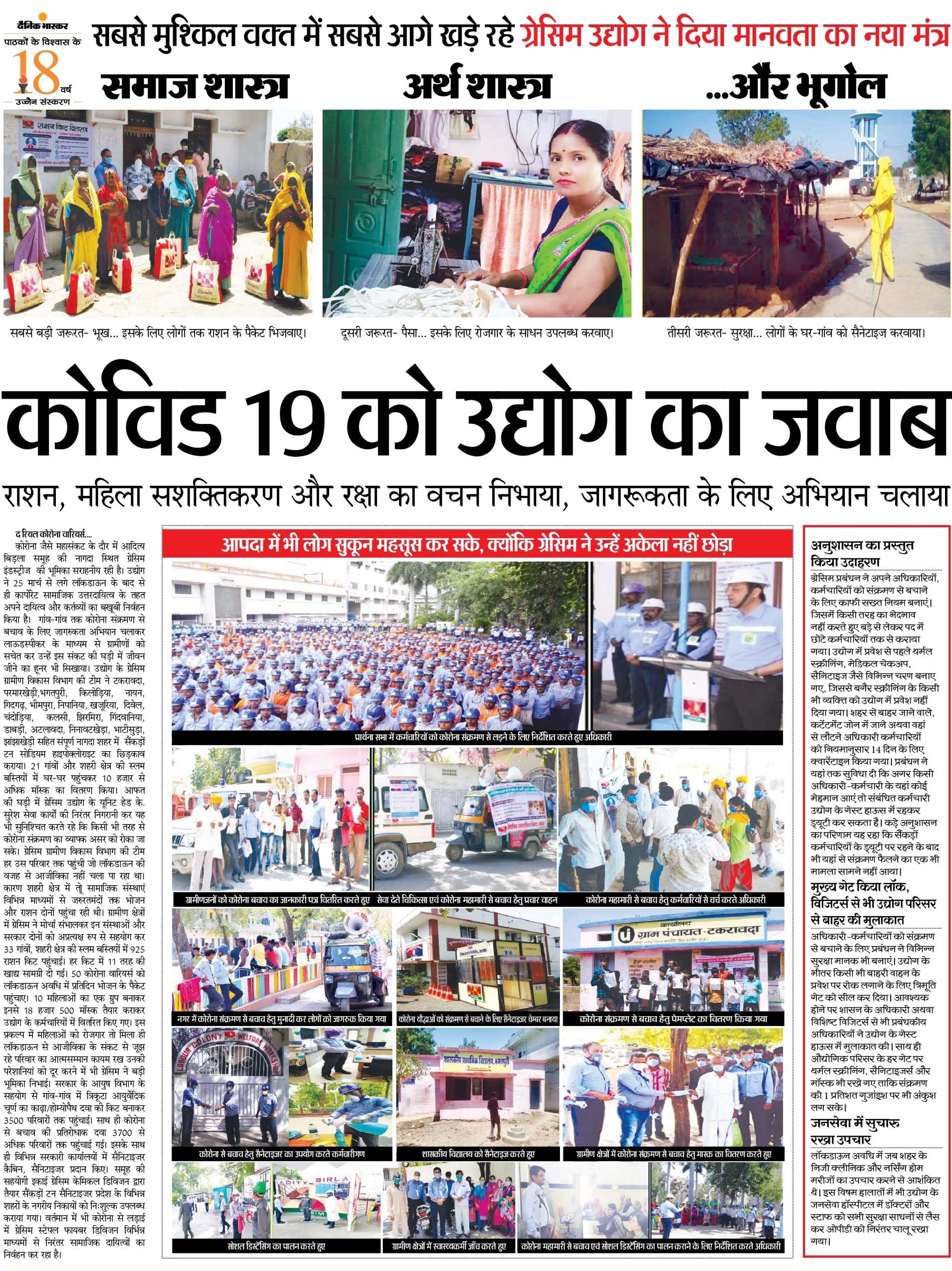 Grasim is always at the forefront in CSR activities in Nagda — Raj Express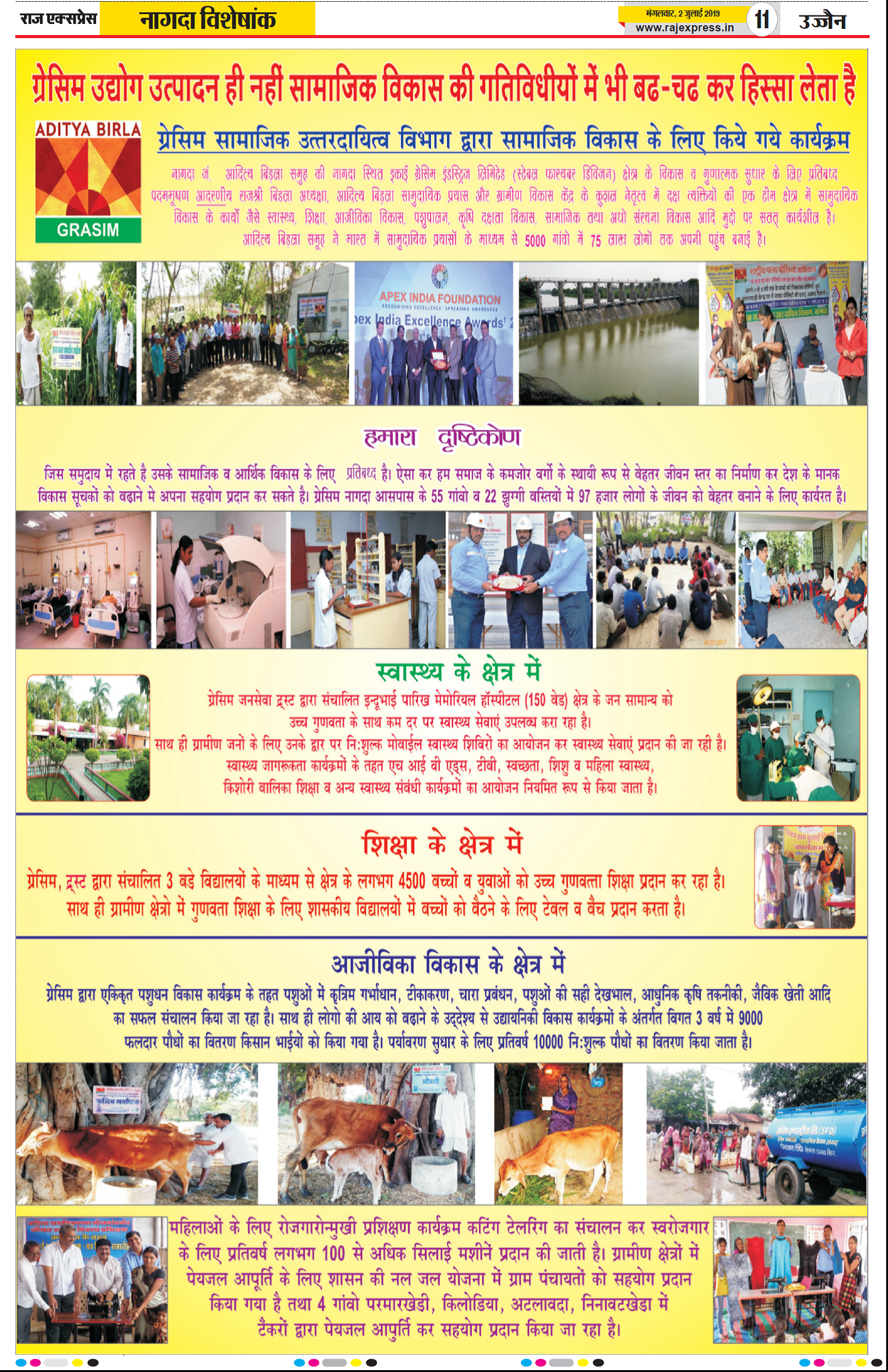 Watch the videos of appreciation from villagers
He has three villages — Parmarkhedi, Bhagatpuri and Kilodiya. He says that along with the local administration in the beginning with Grasim industry it was agreed that Grasim provides water to downstream villages. Grasim has been supporting our needs of water, seeds, manure and healthcare.
A vehicle was deployed to transport the villagers to the hospital in case of medical emergency.
He further says that the system closed due to internal and personal differences between the villagers and farmers but when he took over the administration in 2015, he requested the local administration to ask Grasim to provide water and the company restarted all the services.
Today he is hopeful that all villagers will consult and request Grasim for any work.
He requested safe and pure drinking water and Grasim installed RO plant in parmarkhedi for good of the society

Women in Nagda are grateful to Grasim for helping them train to be self-reliant.
Mr Thawarchand Gehlot, Union Minister for Social Justice & Empowerment, Government of India, expresses gratitude to Grasim for giving villagers access to pure RO drinking water
Appreciation notes in various media coverages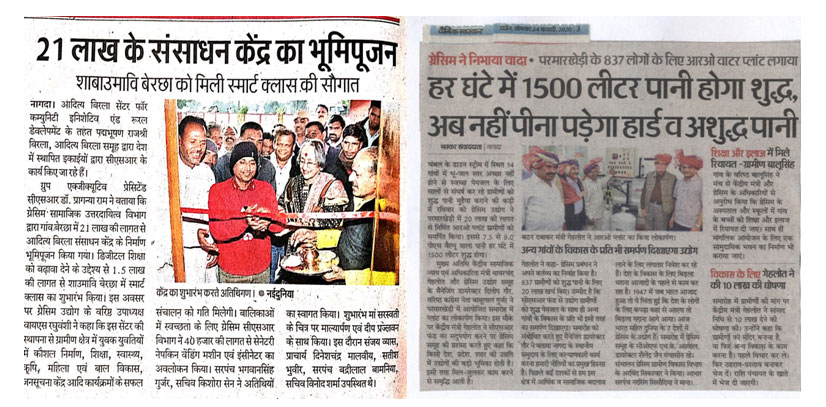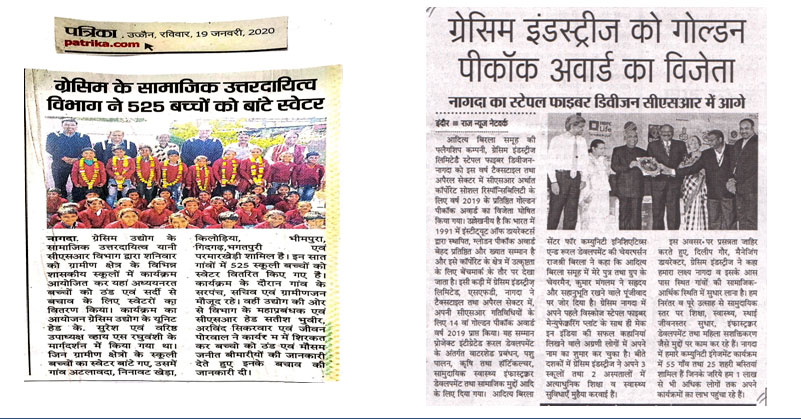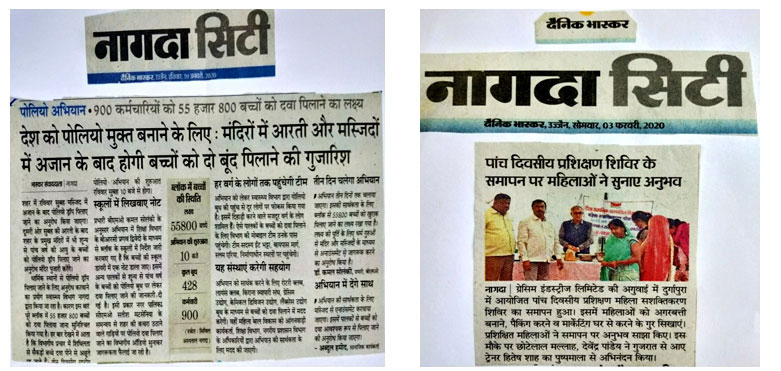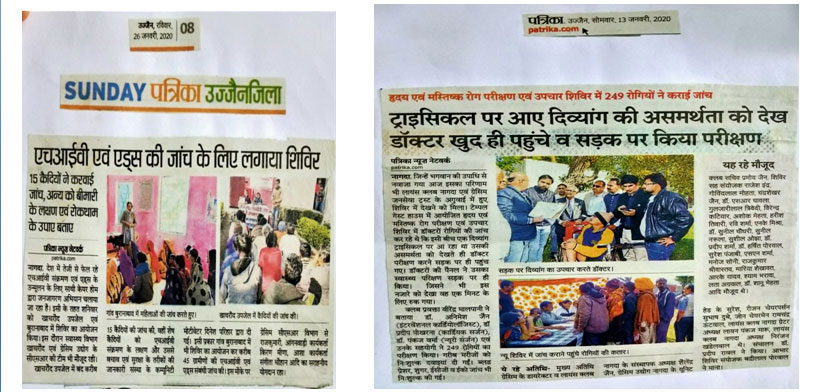 To know more about Nagda and its socio-economic landscape, watch these videos:
https://www.grasim.com/about-us/stories/transforming-nagda-since-1947
https://www.grasim.com/about-us/stories/grasim-and-nagda-the-story-of-togetherwecan
Hospital and healthcare facilities in Nagda provided by Grasim; watch the video:
https://www.grasim.com/about-us/stories/providing-quality-health-services-to-over-350-villages-in-madhya-pradesh